This is one of my favourite value cakes. It's still slightly more effort than taking a Mr Kipling cake out of its wrapper and eating it, but not by much. I don't want to imagine how many calories are in each slice but, well, butter's nice and it's nearly as quick to make as the microwave chocolate mug pudding.
Ingredients
Serves at least 10
400g choc, at least 55% cocoa solids
2 tbsp golden syrup
75g sugar
200g glace cherries
250g digestive biscuits
300g butter
2 tbsp kirsche or brandy (optional)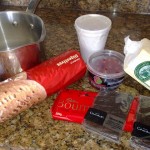 Method
Put a couple of tablespoons of spirits into the cherries tub, give it a shake and leave it to soak overnight.
Line a 900g loaf tin with two layers of parchment or clingfilm
I used a mix of Bournville and hotel choc 70% dark for this. Scientifically break up the chocolate into chunks. I left it in its wrapper and smacked it a few times with a claw hammer. A rolling pin or hob nailed boot would also work.
Loosely dice the butter so it melts quickly.
Put the chocolate, sugar, syrup and butter into a pan and gently gently melt it together, stirring until it's smooth. Do not let it get too hot.
Whilst the hob is doing its thing, put the biscuits into a plastic bag and gently use your fingers to break them apart. You want chunks, not crumbs.
Once it's smooth, dump the cherries and biscuits into the chocolate mix. Stir it together thoroughly and pour it into the loaf tin, trying to not leave air gaps.
Leave it to cool to room temperature, then give it two hours in the fridge before turning out and slicing thinly with a sharp knife.