For no apparent reason, I made the full quantity of this recipe, so this week I will mostly be eating fish pie. Luckily, this version is light and summery and it's freezable in portions. Full credit for this recipe goes to Tastes Divine, I only tinkered with the mix of fish and the topping. Adding pesto and sun dried tomatoes might sound odd but I thought it worked together wonderfully, making it taste very fresh and light instead of the usual cloying creaminess.
I hadn't met sunblush tomatoes before, but they were going half price from the supermarket's deli counter. They're half dried so have a nice concentrated sweet flavour whilst being soft enough to eat. The oil-soaked jars of sundried tomatoes would also work, but you'd need to rehydrate fully dried ones.
Ingredients
Serves 5 – 6
900g of mixed fish. I used about 300g trout, 300g coley and 300g undyed smoked haddock
100g grated hard mature italian cheese. I used Parmigiano-Reggiano
Olive oil
2 hard boiled eggs, shelled and cut into wedges
75g peas
1 bunch of spring onions
250ml creme fraiche
200ml double cream
6 tablespoons of pesto. either basil or rocket is fine.
100g sun blushed or oil soaked sundried tomatoes
600g potatoes
400g celeriac
2 tablespoons yellow mustard seeds
Method
Roughly chop and boil the potatoes and celeriac until they slide off a knife. Drain nearly all of the water, keep a tablespoon or so in the bottom of the pan. Mash it thoroughly, stir in a couple of tablespoons of olive oil, 75g of the grated cheese and season well.
Skin and bone the fish if necessary and slice into bite sized chunks, going across the grain if you can so that it flakes on the fork, not on the chopping board.
Put the fish into the bottom of your baking dish or dishes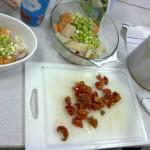 Chop the spring onions on the diagonal and cut the tomatoes into quarters and evenly scatter them amongst the fish, and do the same with the wedges of egg. Add the peas.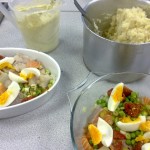 Mix together the creme fraiche, cream and pesto and evenly spoon it over the top of the fish mixture.
If you did a good job with your mashing, you can try piping the potato mix over the top so it looks fun when baked. I didn't and nearly exploded the piping bag so made do with dolloping it instead.
Sprinkle over the rest of the grated cheese and either freeze it or give it half an hour in a 200C oven until the top is golden and crusty.