14km, about 4.5 hours, teashop at half time.
The Peak District is easily the most visited of all our National Parks, and Dovedale in its South is one of the most popular places to go. It's easy to see why when you see the photographs of the great scenery and how accessible it is to people who perhaps aren't all that used to being in the countryside.
It's owned by the National Trust, presumably administered along with the nearby Ilam Park, so its paths are well maintained and there's a steady stream of information boards in case you missed something interesting.
If large, privately owned car parks aren't your thing, the Trust has a modest and, above all, free car park in Milldale, at the North end of Dovedale. Whilst there's just the loo block and 1 household doing a steady trade selling ices, snacks and postcards from their kitchen door, I'd thoroughly recommend starting at this end. It's less developed, has way fewer people and I think it looks better too.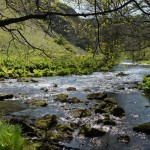 For a single valley, it's entirely possible to walk a circular route, there's a smaller footpath in the west that winds and climbs around the valley, though there's one part of it in the North that would be underwater when the stream's in spate.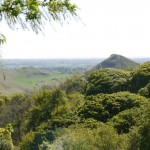 We started mid morning in Milldale and walked south west to Ilam, where we paused for lunch at the NT tea rooms. Expensive but reasonably good food, unless you're into huge slabs of cake then it's good value. There's an hour or two's worth of wandering at Ilam if you'd like to look around, the archiecture of the houses in the village is quite impressive.
The return leg by way of the main path alongside the water in Dovedale is along the most popular part of the beaten track, you might need a spot of patience at busy times but don't panic because most people don't stray too far from the car park so it will get quieter soon enough.
Despite the paths being flat and well paved, I'd allow some time for sightseeing along the way. When we were there, there were a series of paintings on display near to the landscape features they depicted, there were plenty of orchids for spotting, if you like that sort of thing. The route back is straightforward, following the path of the water back to Milldale.