I'm not sure why pretty much all of the large bonfire night fireworks events have stopped round this area over recent years, so luckily the Balloon Tree tried its hand this year, neatly filling in the gap with the added bonus of being within easy reach by bike.
There were a lot of neat touches with the event's organisation, including doing a deal with some off site parking in Stamford Bridge and making the "torch lit procession" part of the event.
Otherwise it was pretty much a fireworks event. There was a nice big bonfire that you could get close enough to to feel the benefit from, a mulled wine tent was doing steady business, which gave something warming to hold and sip whilst queuing up for the hog roast and traditional barbequeued burgers and hot dogs. We thought the burgers didn't look too wide so I had the double, turned out they were just thick instead, which coupled with the serve-it-yourself onions and ketchup meant I was mostly wearing my dinner at the end. Very tasty though.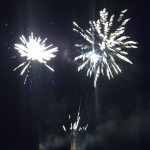 There were a couple of decoratively lit horse trailers with party games and people selling the sort of glowy light sticks you get these days, there was even a barrel for children of all ages to try their mouth at bobbing for apples grown on the premises. The bar was well stocked, though I couldn't get near it, with optics as well as draught beer. The local Guides were present, running a tombola with prizes that were collected over the recent weeks.
The brass band kept up a very good set, and were well organised and didn't compete with either the fireworks or the tent from Minster FM who were compereing the night's proceedings. They even got the timing spot on with getting the crowd to chant "10..9..8..etc..1..FIRE!" which led to a remarkably good display of *whoosh* *kablam* *aahh*.
The fireworks were a good selection and well sequenced, with pretty much all the childhood favourites apart from a catherine wheel. I think the crowd was about 100m away from the fairly modest looking launching apparatus, so the bigger rockets really did explode overhead. It went on for what seemed like about 20 minutes and was remarkably dense. Way better than the Scout displays I used to help, although computer firing sequences are much less fun than running between the milk bottles and the back of the landrover to get the next rocket.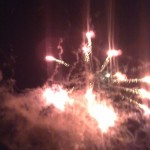 There were a few picnic tables dotted about and plenty straw bales to perch on if standing up for the full display wasn't your thing. There was plenty of space, so the crowd wasn't too deep and even the car park was well organised (it would have to be for that many cars).
The Cadets were doing the parking and they made good use of the glowy sticks, having one in each hand to direct the traffic like you see people on TV doing with planes. There were a couple of tractors doing the rounds to tow out the people who got stuck in the mud, which was fine from our point of view because we were smug cyclists but would have been highly fustrating for the drivers who would have had to wait for their turn for quite some time. But then, everybody was parking in muddy fields so there was bound to be a fair number of stuck cars.
All in all, it was a very accomplished event, certainly better then the Castle Howard one last year, possibly because it involved less traffic jams.
I had a gossip with one of the Balloon Tree's staff earlier on, they apparently sold out of all 1600 tickets (that's all they were brave enough to sell) with a week or so to go, so I'm glad I got mine when I did. They found it succesful enough to have already started planning next year's, so fingers crossed that a small, succesful enterprise will triumph where other, larger organisations have chickened out from.
So, yes, good traditional British nights out are still going strong. Yay.