Over the years, I've tasted Whisky from all over the world, but I've never really learned much past the basics of American grain spirits. Last night's tasting from The Whisky Lounge was a good opportunity to fix that. Joe had put together a good selection of American Whisky to show us around the classification.
I've heard a lot about the Buffalo Trace distillery, mostly from Mark Gillespie's weekly WhiskyCast and how it produces a wide variety of spirits, not too different to Midleton Distillery in Ireland.
The first contender was Buffalo Trace's new make spirit, they call it White Dog and you can find it for sale dotted around the UK. I first met it at Gerry's stand at the Leeds Whisky Festival last month and, well, it didn't exactly match my memory of Scottish Single Malt new make spirit. At all. Yes it's cask strength at 62.5% ABV and yes, it's perfectly clear liquid, but that's where the similarities end. Whereas the Bruichladdich and Glenmorangie new make tastes like the finished product, this didn't. I got the buttery sweetness that you'd expect from such a high proportion of Maize in the mash bill, but I wasn't impressed with the overriding bitterness. As you might expect, it is relatively cheap.
Moving right along to #2, we Buffalo Trace's flagship product Kentucky Straight Bourbon Whiskey. It carries no age statement on the bottle, but the glossy booklet from the distillery says the casks used in the blend are 8-12 years old. To be called Bourbon, the spirit must be distilled in the USA from at least 51% maize and must be aged in virgin charred oak at no more than 62.5% ABV, no first or second fills here. To my nose, this is what I was expecting, a rounded smooth drink with the wood completely dominating proceedings. A deep natural golden colour accompanies buckets of vanilla fudge with a short finish. I didn't find it particularly characterful or interesting, but I could understand this being a session drink if I had a sweeter tooth as it's inexpensive, you might find it for £20-25.
Our third dram moved both category and distillery, Jim Beam's Original Rye. Jim Beam is a very large international business and has a portfolio of drink brands to match, but I think in this case it's popular for a reason. As the name suggests, this has at least 51% rye in its mash bill and the taste is completely different to the bourbons. It's lost a lot of the sweetness and replaced it with a complex dry and almost spicy character. It's bottled at 4 years old, so the wood has been able to mellow the harsh rye with caramel and vanilla but without completely taking over. I liked this quite a lot because it's interesting and not like anything else I'd met beforel
Fourth was Rittenhouse Rye from Heaven Hill distillery. This is another Straight Rye Whiskey but more developed than the 4year old Jim Beam. It's bottled at 50%, which I normally think is a good strength for extra taste but I didn't think this one carried the extra strength well with the nose dominated by estery spirit notes. Others in the room thought of tippex. It had the spicy dry characteristics of a Rye and lingered much longer than the Beam, but bought a bit of a bitter overtone that reminded me of the maize new make spirit. We discovered that adding half a capful of water sorted this one right out.
Punctuated by some amusing drunken antics outside, we entered the home straight (pun mostly intended) and met the last two bourbons of the evening, this time from the other end of the maturity scale.
Knob Creek's 9year old Straight Kentucky Bourbon is part of the Jim Beam group and is a nod back to the era before prohibition changed traditions forever. Its rectangular bottle is shaped like a bootleggers hip flask and has newsprint on the label, distillers used to hide their wares in newspaper. This is bottled at 50% and I think carries its extra strength well with extra flavours of roasted dried fruit and brown sugar on top of the vanilla toffee from the oak and rounded smoothness of a good bourbon. A couple of people in the trade had good things to say about this one and a drop of water got an extra layer out of it. It's had a lot of awards in recent years and as a premium bourbon comes in at £30-40 a bottle.
The finale of the evening was a single cask bottling called Eagle Rare 10 yr old. Again from Buffalo Trace, the same recipe and distillation as #1 and #2, but matured a lot longer and specially selected. For me, it clearly had the same heritage as the earlier bourbons but had a robust presence that I normally associate with an older matured whisky, say 15 to 18 years in first fill casks. According to the distillery, this is matured on the upper floors of their warehouses where things happen more slowly and it's bottled at 45% for a dollop of extra flavour. For me, this was the tastiest drink of the evening with the same flavours as Buffalo Trace, my nose picked up a faint hint of strawberries and cream along with the vanilla and toffee but with more intense spice maybe a honey-like dry hint to its sweetness and a longer rewarding finish. It would be very interesting to put this next to something like a Glenfarclas 10 which takes a huge dollop of flavour from the sherry butts its matured in for so long.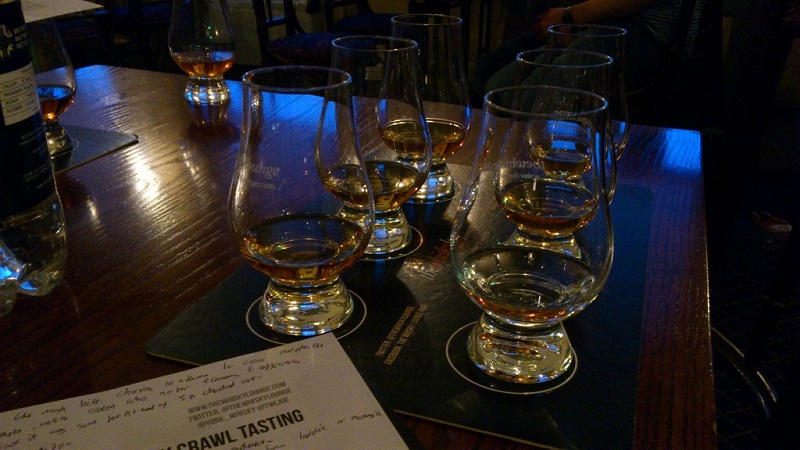 The popular vote for dram of the evening went to Jim Beam's Straight Rye Whiskey. Whilst I think the Eagle Rare was easier to drink, the unusual rye characteristics won me over because it's different. This continued the York's regulars trend for preferring bigger complex flavours, normally voting up the older, smokier peaty whiskies over the lighter more fragrant drams that sell much better in the general population.
I don't have much in my collection at home that would stand up to the solid wood maturity of that Eagle Rare, but a cheeky single from the TWL single cask bottling of a Macduff that's spent 11 years in sherry did the job just nicely.
The TL;DR version of events? If you like it odd, then try the Jim Beam Straight Rye, if you like it good then pick the Eagle Rare 10 yr.
With such strong sweet flavours abounding, we discussed rums a little bit too. I'm still sold on the Flor de Cana 12 year old for something big and sweet and Renegade Rum's Jamaica for something more delicate, but those in the know thought the El Dorado 15 year old is the best rum for whisky drinkers.