Another recipe I'm afraid, seems that's all I'm good at making time for nowadays. However, this recipe is a nice combination of italian and british tradition, pretty much a crumble that's upside down and can be made to look good for presentation.
Ingredients
Serves at least 6
Topping:
6 Apricots
25g butter
2 tablespoons apricot jam
Base:
100g plain flour
50g butter
50g sugar
50g Amaretti biscuits
You'll need a tart or cake tin with a removable base
Method
Preheat an oven to 180C
Line the base of the cake tin with greaseproof or baking parchment
First make the base mixture by creaming together the butter and sugar, then rubbing through the flour to get a consistency of breadcrumbs. Use your fingers or a rolling pin or the bottom of a frying pan to reduce the Amaretti biscuits to small crumbs and stir them into the mixture.
Tightly pack the mixture into the bottom of the cake tin, trying to leave as few air gaps as possible.
Next slice your fruit, I used apricots because I think they go well with almonds, but bramley apples would also work well with a generous spoon of ground cinnamon. This is Italian inspired, so try to heap on the fruit generously rather than artfully arranging them.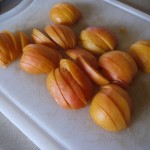 To make it look better and hold together a bit, I used two glazes. The first was melting a spoon of butter in the microwave and brushing it all over the fruit (this is where you'd add the cinnamon if using apples), then I melted a couple of tablespoons of apricot jam in the microwave and brushed that all over the fruit too.
It's now safe to leave in the fridge or freezer until you want to cook it.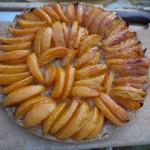 Bake it in the oven for 40 minutes. The fruit will be done sooner but it's nice to get a good crunchy base so that it holds together on the plate. I served it with a quinelle of creme fraiche.