The snow that's been featuring so prominently in people's facebook statuses and on the national news has largely passed us by in the Vale of York, so not know what all the fuss has been about and with a nice crisp winters day being all sunny outside, I kicked myself out of the house to go and explore Beningborough Hall, the nearest National Trust property.
Being far from peak season, not quite everywhere was yet open, although the restaurant was as jam packed as only the NT seems to know how. It's a small stately home, well, small as these things go, it's still huge by any sensible unit of measurement with a good walled garden and a home farm. It ticks all the boxes you'd expect, but adds a few 21st century twists later on.
I was pleased to see the amount of visitors there, mostly fitting into the NT stereotypical demographics of families with young children and retired couples. I'm always happy to not conform. It did mean that I had the opportunity to converse a bit with the volunteers in the house, half the fun of NT properties is learning a bit about the history of the place, although I do wonder where they find such a consistently stern stream of volunteers to sit in the corner of posh rooms all day long.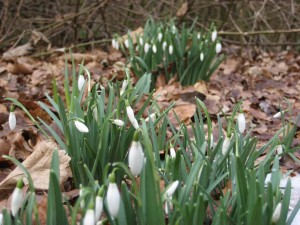 You couldn't wander through the park land, most of it was used by the home farm for their herds. The house and gardens were confined by a haha that almost fully encircled them, so it was used as a physical barrier even where it wasn't necessary to maintain an uninteruppted view from the house.
The walled garden held most of my interest, it's an ambition to have one of my own someday, so I spent a bit of time poking about there whilst dodging the 'Warning: slippery paths' signs dotted about the place. Rather uncharitably of me, I did think they were about as necessary as signs saying things like 'Warning: brick wall' or 'Car Park: may contain cars' but then I don't run Health and Safety teams or a legal department who has cope when somebody complains they slipped on the ice, which to be fair, was ice.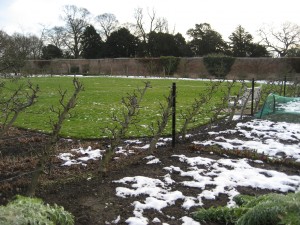 I was most impressed by the trees and vines that have been trained into various shapes over many years and slightly jealous of the quantity of buds on some of the currant bushes, just waiting to erupt into life and this year's harvest. It was interesting how even some of the shorter cordons were trained into a sloping trunk so there was more space for the side shoots. I didn't want to guess how long some of these plants have been in place for, the apples forming a series of archways looked very old and established.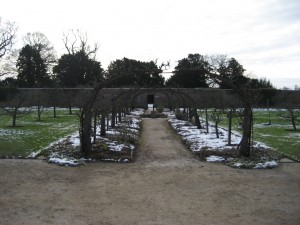 Most of apparatus for training the plants was modern and metal, presumably so it lasted as long as possible, but there was a small cluster of rhubarb forcing pots that looked straight out of an episode of Victorian Kitchen Garden with manure packed around them. The tool shed had a reasonably good collection of old tools and pots from that era, it really felt like you would come across Harry Dodson's ghost at any moment!
The house had a theme of portraits and had a partnership agreement with the National Portrait Gallery to exhibit quite a few. Perhaps unusually there was strong educational slant to the various rooms, one focussed on sculpted portraits, including an invitation to model your own nose on a sawn-off bust.
I was feeling a little juvenile, so it was probably a good thing that I didn't have somebody with me to hold the camera as there was a D.I.Y portrait setup. The idea was that you could select one of 3 different backgrounds, dress up with cloaks and wigs and hold a prop or two, then sit behind a frame with glass to have your photo taken. I made do with the self-portrait version which superimposed your mugshot from a webcam onto a designable figure and background. The result of which was then put onto the wall for all to see. Whether you liked it or not.