In what I hope will turn out to be a fun trend of me actually following recipes for once, I cooked Rick Stein's Beef stroganoff with matchstick potatoes last night.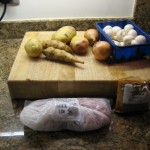 I've got a reasonable collection of food and cooking books that I take inspiration from, but I first spotted this on one of his DVDs, Rick Stein Food Heroes And Another Helping, (that I got autographed! /dance) and stood out as being to the point and highly delicous. I'm far too much of a cheapskate to use best fillet steak, especially when there's only an audience of two, but my local butcher recommended I try a nicely marbled cut or two of braising steak for about a quarter of the price that he proceeded to attack with a sprung plastic tenderiser that looked straight out of the Innovations catalogue.
I do like paprika, so whilst I halved the recipe's quantities, I used a teaspoon each of Hungarian Hot and Smoked paprika, both from Fox's Spices (who I do wish would get with the times, or at least with a website).
I'm pretty terrible at deep frying, it always seems that I wind up coating the entire kitchen with oil rather than just the potatoes and this time was no exception. At least with my thermometer I can tell when the oil's at 190 degrees but trying to keep it there on my electric hob was a bit of a bugger. The recipe called for 3 minutes of frying for the chips, I took nearly 20, although that was for three batches. I also added a couple of jerusalem artichokes to the chips, I think their nuttiness tastes fantastic when deep fried but they'd be a bit expensive to have just on their own.
The end result was very nice indeed, the beef stayed very tender and moist (30 seconds really didn't seem long enough) and it disappeared off the plates very quickly. My other half normally doesn't like things to be creamy or mushroomy, so I think that she ate it suggests it's one to repeat. There were a few protestations that it wasn't served with rice, but I found the crispness of the thin chips really added to it.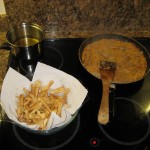 The only thing I'd do differently next time would be to increase the quantity of potatoes by about 20%, there didn't seem to be quite enough chips to soak up the sauce.
If I remember to get the star anise and dried tangerine peel from the oriental supermarket in town tomorrow (it's a few doors up from the dentist so is ideally placed for infrequent stocking up) then next week's challenge will be another Rick Stein recipe, red-cooked wild boar. Although I might well have to cheat and use belly pork.